Sandwich panel rollforming machine
The sandwich panel rollforming line is composed by loading car, uncolier, guiding & feeding device, roll forming machine, cutter, automatic stacker, hydraulic system, electric control system.
Sandwich panel rollforming machine
TF VII Sandwich Panel line can produce five types of sandwich panels. And three for wall panel, two for roof panel.
Polystyrene Sandwich Panel is also called EPS Sandwich Panel,the up & down surface of this panel is Galvanized & pre-painted steel sheets. Its core material is Polystyrene. TF VII Sandwich Panel is formed by laminating and pressing with 2 components PU glue. The sandwich panel features temperature keeping, hot & sound insulation, anti water and fire resistant. It is widely used as the wall or roof for cold storage, industrial workshop, public building etc.

Features (polystyrene sandwich panel):
1) Structure:
a) Upper and lower layer: uses many kinds of metal sheets or decorative polywood
sheets
b) Middle: condensed polystyrene foam board
2) Width: 1,000mm, 1,180mm
3) Thickness: 40mm, 50mm, 60mm, 75mm, 80mm, 100mm, 125mm, 150mm, 175mm,
200mm, 225mm, 250mm
4) Length: depending on the design and conditions of transportation
5) Thermal conductivity: 0.032kcal/m.h.c
Features (rock wool sandwich panel):
1) Rock wool is non-combustible material, so the rock wool panel has good fire
resisting proper. The test shows the temperature of the panel fire-proof is as
high as 10001°C
2) Roof and Wall panel thickness 100 REI 120
3) Roof and Wall panel thickness 80 REI 60
4) Roof and Wall panel thickness 50 REI 30
5) The roof and wall panels, thickness 50-80-100mm, were classified 0/1 for reaction
to fire. (Materials are assigned a class from 0 to 5, the higher the class, the
higher the degree of combustion)
6) Rock wool panel achieves a notable reduction in air borne sound transfer,
particularly when specifying a perforated liner. The impact of rain and hail on
the metal sheet, a problem on most standard constructions is greatly reduced
when adopting CX-RW panels. The CX-RW panel in thicknesses of 50-100mm
with 100kg/m3 rock wool fibre insulation has achieved results of RW=29-30dB
according to UNI 8270/7 and ISO 717/82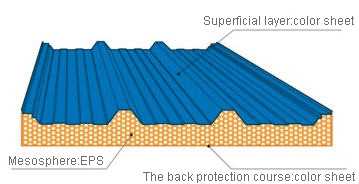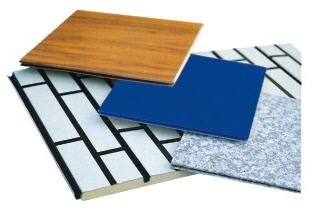 EPS sandwich panel