Wood Pellet Stove
Pellet stove, burning at home, an warm recall of old days. By burning pellets made of wood, corn or other materials, pellet stoves is being an modern heating system as an ecologically heating system at home safe and green.
We had been introduced 2 new producing lines for the production of pellet stoves and boilers since 2002 year.
With the growing need for environmental protection and energy-saving, pellets stove has been an alternative to traditional heating options as pellets are renewable green fuel from the waste agro-material.
--Smoke tight venting system to pellet stove makes it more clean, efficient and safe when burning.
--Fans and thermostats designed to heat up room air through air convection and heat radiancy so that pellet stove can heat room fully.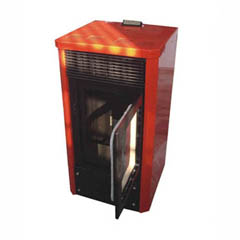 Item: GM-C15 Wood Pellet Stove Freestanding

Description: Freestanding pellet stove can be located at any place at your home. Venting blower, drill feeder & controls, thermo-disc fan control switch featured its good performance.

Overall Dimension(mm): 528( width )*1025( hight) *545( depth)
Feed Hopper: 32KGS
Maximum feed rate is 1.6KGS/hours (9KW)
Minimum feed rate is 0.8 KGS/hours (5KW)
Heat Efficiency: 85%
Heating area: 100 Square meters (300 Cube)
Color can be changed as client requests.
Note:  1.Currency: EUR/USD
   2.Price Term: FOB China Main Port
   3.MOQ: One 20 Feet Container
Design of Pellet Stove