Counter-flow Cooler
SKLN Series Counter-flow Cooler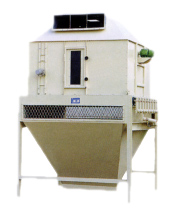 General Description
The model of SKLN Counterflow Cooler is defined by original Business Commerce Department according to regulation of product model in China. It means as the following:
S---volume of material chamber of cooler.
K---means counterflow
L---means pellet cooler
N---means feedstuff machinery
The SKLN Counterflow Cooler is the most popular series for cooling normal pellet feedstuff. It use the theory of counter-flow between natural air and material to cool wet material with high temperature. Cool air contact with cool material and go through material layer vertically at counter direction. The cooled air become hot gradually to contact with hot material. Through heat exchange, pellet material is cooled down gradually. Hot air is extracted by top of cooler by cylcone and fan. The process avoid the direct contact of cool air and hot air, which lead to the broken of pellet surface.
This series of cooler operates reliably and efficiently with little noise. The cooled material is no more than 3~5℃ with moisture no more than 12.5%. It have full specification suitable for feed mill with annual capacity of 5,000-100,000 ton at one working shift.
| | | | | | | |
| --- | --- | --- | --- | --- | --- | --- |
| Model | SKLN1.1x1.1 | SKLN1.5x1.5 | SKLN1.9x1.9 | SKLN1.9x2.4 | SKLN2.4x2.4 | SKLN2.4x2.8 |
| Capacity(t/h) | 3 | 5 | 10 | 15 | 20 | 25 |
| Power(KW) | 0.75+0.75 | 0.75+0.75 | 1.5+1.5 | 1.5+1.5 | 2.2+2.2 | 2.2+2.2 |